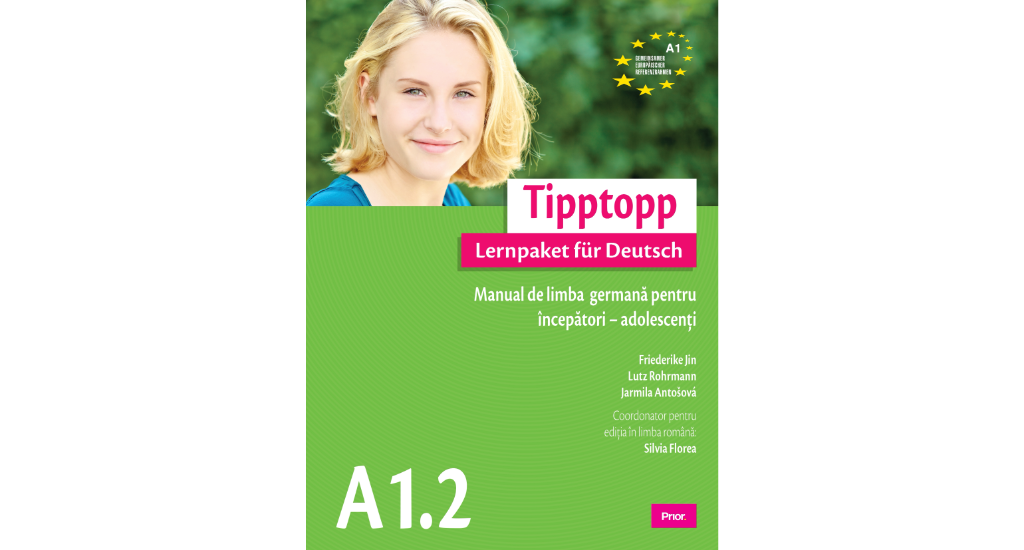 Tipptopp / Lernpaket für Deutsch A1.1 – C1 is a series of complete German language learning packages, which is very consistent with the requirements of the Common European Framework of Reference (CCER).
The Tipptopp A1.1 – C1 packages ensure the acquisition of knowledge of the German language, from the linguistic level A1.1 to C1, a level necessary for a university study in a German-speaking country.
The learning course with Tipptopp packages is as follows:
Tipptopp A1.1 and A1.2 → attested level A1;
Tipptopp A2.1 and A2.2 → attested level A2;
Tipptopp B1.1 și B1.2 → Zertifikat Deutsch Niveau B1;
Tipptopp B2.1 și B2.2 → Zertifikat Deutsch Niveau B2 (necesar unui studiu universitar
într-o țară germanofonă);
Tipptopp C1 → Zertifikat Deutsch C1.
Concept:
Tipptopp A1.1 – C1 provides, in a single volume, all the materials needed to acquire language skills for each level of CCER. The Tipptopp series is distinguished by a unique, transparent architecture that simplifies learning and teaching.
Each volume is a complete learning package, consisting of four parts:
The student's book;
Exercise book, grammar and vocabulary;
Tests and their solution;
A CD containing audio materials made with native speakers (thematic dialogues, various other types of texts, pronunciation exercises and songs).
The Tipptopp series has the following features:
ensures the full course of learning, from level A1.1 to C1, respecting the requirements of CCER;
offers, in a single learning package, all the important materials for a CCER level;
systematically develops all language skills (understanding spoken and written text, composing texts, pronunciation close to that of native speakers);
integrates grammar and speech acts in language activities;
provides (self) assessment materials;
ensures an intercultural approach of the German-speaking world, in its diversity;
ensures rapid progress and a pleasant way of learning.
Tipptopp A1.1 – C1 learning packages can serve both as a primary source of German language learning and as additional material. We recommend going through a volume in 60–100 class hours, depending on the pace of learning and the weekly hours available to each student. By learning with Tipptopp, you will easily notice the safe and fast progress in learning the German language!